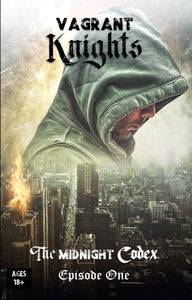 The Midnight Codex: Episode One
Regular price
$2.00
$0.00
Unit price
per
The Midnight Codex is an episodic, one-page, tabletop role-playing series using the Omen Method (The same game system used to power Short Order Apocalypse).

In it, payers are thrust into the roles of would-be spell casters as they attempt to solve mysteries, take on nightmarish creatures, and try to prevent the world from collapsing into total chaos and its impending destruction.

Each new exciting episode is designed to be played as a one-shot story and can be played in any order you choose. However, each episode can also be chained together to advanced the overall meta-plot of the game as it unfolds each month.
After wakening up in that god-forsaken alley several nights ago, our would-be wizards and witches learn pretty quick that not everything is as it seems. It's only been 3 days since that fateful evening and already things are starting to go downhill. What's worse, is that its somehow become their responsibility to take care of it all.
As they head out into the night once again, an all too familiar sinking feeling overcomes them as a light rain begins to dance across the streets accompanied by the faint sound of thunder rolls in the distance. One thing's for sure, there's more than one kind of storm brewing tonight.
download included
---